Char Kway Teow: One of Singapore's most popular hawker dishes, this flavourful home-made fried kway teow is cooked in the traditional way using pork oil, fish cake, prawns, fresh cockles, chives and Chinese sausage, and topped with crispy pork lard. Be warned though, this decadence-loaded dish is best enjoyed in moderation!
EASY NAVIGATION
In case you have missed us, WE ARE BACK(!!!) with a brand new and super delicious recipe that is the crowning jewel of Singapore hawker paradise – Char Kway Teow! Yes, its actually been almost a month since we published our last recipe. And this is probably the longest gap between recipes that we've had since this blog become active in Aug 2016 (our usual practice is 1-2 new recipes per week).
But its been for good reason though, as we have been taking some time to experiment with a rather different recipe video format from our usual 3 minute video style. Today's post is the culmination of our month-long experiment that hopes to give you a massively enhanced visual presentation of not just the recipe steps but also the cooking knowledge and tips that are crucial for the success of making this recipe.
In fact, this Char Kway Teow recipe will be the first in our new mini series of "10-minute Cooking Tutorials" where I (Bee Leng) will bring you into my kitchen, and guide you through the often daunting process of purchasing and prepping ingredients, and the actual cooking of the dish. We hope that you enjoy this mini series and that you will leave us feedback on our video. If the mini series received positive reviews, we will definitely consider filming more recipe videos in this format in the future as well!
Another piece of good news! We just received word last week that The Burning Kitchen blog has been ranked among the top 20 Chinese Food Blogs by Feedspot. Here's the e-medal that we received, and we want to dedicate this to all our readers, whether you have tried our recipes, or are planning to try them out, or simply read for fun even though you never cook. And if you want to be part of our Home Cooking community, you are most welcome to join our TBK Home Cooks Facebook Group where you can ask any cooking question, and learn / share recipes and cooking tips with others in the group!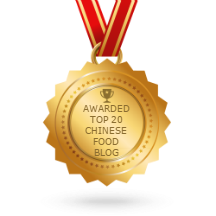 Back to the star of today's post: Char Kway Teow is a dish that actually needs no introduction. To me, a good char kway teow must always have 2 ingredients, without which Char Kway Teow simply wouldn't be Char Kway Teow. And these 2 ingredients are drumroll….
1. Pork Lard
Though pork lard is not the healthiest, Char Kway Teow without pork lard and pork oil would simply not be the same. So one essential step in the process is to fry the pork lard to light golden crispy perfection. Control of the fire and a good eye are crucial in the process to ensure that the pork lard does not get burnt. Once the pork lard start to turn yellow, you need to immediate turn the fire down to low and watch that pork lard like a hawk while continually stirring it. Once it turns light golden, it is done and you need to remove it from heat immediately. If you are not quick enough, or you wait until it turns brown, the lard will have a tinge of a chao da (burnt) taste which is bitter and will spoil the taste of the dish.
After frying the lard, you will be left with a generous amount of pork oil which is deliciously fragrant and decadent! You can use some of the pork oil to fry the char kway teow and you can surely taste the difference! However please eat this dish in moderation as it is not the healthiest!




2. Fresh Cockles
Fresh cockles are a must when it comes to Char Kway Teow or Laksa. You can buy fresh cockles from the wet market but do note that they are typically available only during the weekends. They are also sold at some NTUC and Sheng Shiong outlets. To assess if the cockles are fresh, check if most of the cockles are open and that is a good indication of freshness. You can even go a step further and lightly tap on the cockle. If the cockle closes back, it is most definitely alive and very fresh! The colour of the cockles should be pinky red, the colour of fresh blood.
You need to wash the cockles very thoroughly as there are lots of dirt and debris trapped within the cockles. At times, you may even find carcasses of undigested food such as tiny crabs without the cockles! For instructions on how to wash the cockles, please read the Recipe Tips at the end of the recipe card.
Opening the cockles and extracting the meat is another interesting process that deserves a paragraph of its own. There are 2 main ways of doing this – first is to blanch the cockles briefly in hot water. This cooks the cockles and caused them to open up on its own. This is also perfect if you plan on having the cockles whole, with just some sambal on the side for dipping. If you want to fry the cockles, as in the case of Char Kway Teow, a better method is to use a cockle/clam opener to open the shell and then scrape out the meat. I bought mine from Thailand but you may be able to find this item in stock for this in your local pots and pans shop.
---
---
STEP-BY-STEP RECIPE
Char Kway Teow
One of Singapore's most popular hawker dishes, this flavourful home-made fried kway teow is cooked in the traditional way using pork oil, fish cake, prawns, fresh cockles, chives and Chinese sausage, and topped with crispy pork lard. Be warned though, this decadence-loaded dish is best enjoyed in moderation!

Print
Ingredients
500

gm

Kway Teow

100

gm

Bean Sprout

3

Eggs

2

Chinese Sausage

1

piece

Fish Cake

300

gm

Fresh Cockles

50

gm

Chives

12

Prawns

200

gm

Pork Fat
Condiments
1

tsp

Sugar

to marinate the prawns

2

TBsp

Chopped Garlic

2

TBsp

Chilli Paste

4

TBsp

Light Soya Sauce

2

TBsp

Dark Soya Sauce

1

TBsp

Sweet Sauce

1/2

tsp

Fish Sauce

4

TBsp

Pork Oil

50

ml

Water or Prawn stock
Instructions
Preparation Method 40 min)
Wash the cockles several times to get rid of the mud and sand. Soak the cockles with water covering over them. Add some salt and soak for about 30 mins. After that, discard the water. Extract the cockles and leave in the fridge for later use.

Wash and cut the pork fat into 1 1/2 cm squares and set aside.

Remove the roots from the bean sprout. Wash and drain.

Soak the sausage in hot water for 10 mins. Remove the casing and slice it thinly diagonally.

Remove the skin from the garlic and chop finely.

Wash the chives and cut into 5 cm lengths.

Slice the fish cake thinly and set aside

Slice the lime into half and chop the chilli finely, then cover with clingwrap and refrigerate.
Cooking Method 20min)
Heat up the wok over high heat and add in the pork fat stirring it occasionally. Once turn golden and crisp, turn off the heat immediately. Transfer the pork lard into a bowl. Pour the pork oil into a separate bowl, leaving behind 1 TBsp in the wok.

Then add in Chinese sausage to fry for 1/2 min at low heat until fragrant, then transfer to a plate.

Turn up the heat to medium high and heat 1 TBsp of pork oil in the wok. Next add in the garlic and fry till aromatic, then add in the kway teow and fry for 2 mins.

Add in the light soya sauce, dark soya sauce, sweet sauce, chives, fish cake and chilli paste (optional). Toss the kway teow to mix well with all the added ingredients.

Push the kway teow to one side of the wok, add 1 TBsp of pork oil to the wok and crack the eggs in it. Using the spatula, spread out the egg and add in 1/2 tsp fish sauce. Flip the kway teow over the egg and give it a quick stir.

Again, push the kway teow to one side of the wok, add 1 TBsp of pork oil to the wok and add in the prawns. Next add in the bean sprouts.

Tip: Beansprouts are added towards the end so they are just cooked but still retain their crunchiness. If fried for too long, the beansprouts will become limp instead.

Push the kway teow to one side, then add in the cockles and 1 tsp of pork oil. Flip the kway teow over the cockles and give it a quick stir.

Tip: Do not overcook the cockles as they will become very rubbery if overcooked.

Sprinkle the water/prawn stock over the kway teow if it is too dry, and stir well.Finally add back the Chinese sausage and mix well. Turn off the heat immediately. Transfer to a platter and serve with lime and chilli while still hot
---
DETAILED RECIPE NOTES 
Dietary Information
The purpose of this section is to provide information about dietary information about this recipe based on our best knowledge. However, we are not certified healthcare professionals so please seek the advice of your nutritionist or doctor before proceeding to use these recipes.
Recipe FAQs and Expert Tips
1. Where can I get fresh Kway Teow?
You can buy fresh kway teow from the market. Its best to buy it in the same day that you plan to cook. However if you need buy it in advance, or buying refrigerated versions from the supermarket, its best to blanch the kway teow with hot water and drain dry before frying.
2. I'm only cooking for two. Can I just half the portions? 
Yes thats not a problem. In fact, for a portion size of 4 as per this recipe, I would recommend dividing the Fried Kway Teow ingredient into two portions, and fry them separately. It is easier to fry a smaller portion of kway teow so that it would not stick together and the ingredients would not be overcooked.
3. Can I use vegetable oil instead of pork oil?
Pork oil is used for Fried Kway Teow and Fried Hokkien Noodles as it gives out a very unique flavor and also gives a very smooth and glossy texture to the entire dish. However for health reasons, it is best to eat this dish in moderation. If you prefer a healthier dish, you can always replace the pork oil with vegetable oil
4. Where can I get fresh cockles?
Cockles are available in some wet markets during weekends only. However they are also available at certain NTUC and Sheng Siong Outlets. To me, char kway teow without cockles ('Hum') is not char kway teow. Same goes with Laksa too. So cockles for me are a MUST when I am cooking this dish.
5. How to choose fresh cockles?
Fresh cockles should be live at the point of purchase. If most of the cockles are open, gives them a tap on the shells. If the shells close, then they are fresh. But if you touch them and they remain open, they are not fresh. Do not buy as they are dead and are not good for eating. The cockles should also smell fresh. It they are smell bad or look suspect, please do not purchase.
6. How to wash the cockles?
Wash the cockles a few times thoroughly as the shells are covered with sand and muds. Before extracting the flesh out, soak the cockles in a tub of water with 2 tsp of salt for about half an hour. This is to purgethe debris trapped inside the cockles. To prevent contamination, remember to keep the cockle flesh refrigerated once extracted until needed.
7. How to extract the flesh of the cockles?
There are few ways of extracting the flesh : 1) Put hot boiling onto the cockles for 1 mins. Drain off the water and open the shell with your hands. 2) Prise open the shell using a cockle opener. ( I bought mine from Thailand). Try some of the traditional cookware shops that sell pots and pans, they may carry this item in stock. After opening the shell, remove a small lump of mud inside the cockles with your thumb, and use the shell to scrape the meat out.
8. Is it a must to remove the casing of the Chinese sausage?
It is better to remove the casing of the sausage as it is made of synthetic material or animal intestines. It is easier to remove when it is soak with hot water for about 10 mins.
9. Can I use prawn stock instead of water?
For an extra flavourful dish, use prawn stock instead of water. To prepare the prawn stock, fry the prawn heads and shells with some garlic until aromatic. Add half bowl of hot water to it and let it simmer for a few mins. Discard the shells and pour the prawn stock through a sieve. Save the stock for frying the kway teow.
10. Can I omit the chives, as my family does not like it?
Chives can be omitted if you prefer.
GOT A QUESTION ABOUT THIS RECIPE? ASK US IN THE COMMENTS BELOW AND WE'll ADD IT TO THE FAQS! DO ALSO CHECK OUT OUR RECIPE INDEX FOR MORE YUMMY RECIPES!